18:11Friday, Nov 12 , 2010 by Publisher
Who will value Palestinian rights?
Fatah-Hamas reconciliation must begin with a vow to stop violating the human rights of those they compete to represent.
Lamis Andoni Last Modified: 09 Nov 2010 11:57 GMT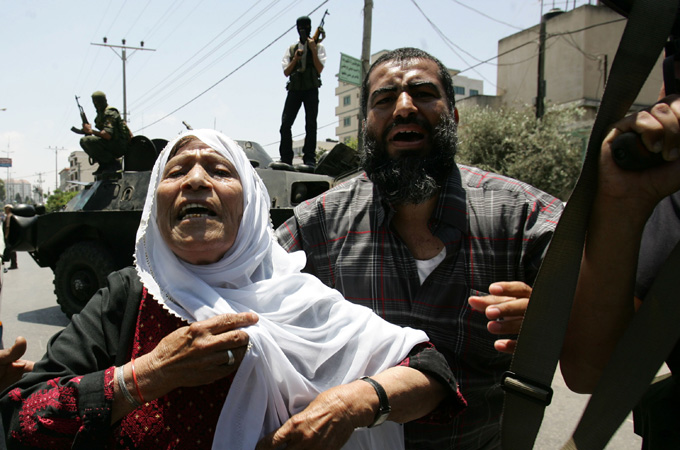 Photo Credit: The Fatah-Hamas rift has polarised Palestinians [GALLO/GETTY]

Hamas and Fatah have resumed reconciliation talks in a bid to heal the rift that has led to the Israeli occupied West Bank and Gaza Strip being governed by two separate bodies.
Previous meetings have failed to unite the two groups, whose differences have brought about the most serious schism in Palestinian history. There is nothing so far to indicate that this latest round of talks, taking place in the Syrian capital Damascus, will be any different.
But the suspension of talks between Israel and the Palestinian Authority (PA), as the latter continues to demand that Israel stop building illegal Jewish settlements, has provided an opportunity for the gap between Hamas and Fatah to be bridged.
The Hamas/Fatah split has served to polarise the Palestinian people, with no other force emerging either to unify the feuding parties or to replace them.
Both movements have historically achieved their claim to legitimacy through armed resistance to Israel. That legitimacy was reinforced through election processes in 1996 and again in 2006, when Hamas won the majority of seats in the legislative council, with Fatah, despite losing its leading status, showing that it remained an important player.
New elections must now be held to reflect the new power balance in the court of public opinion. But before elections can take place, unity must be achieved so that a situation which is conducive to a free and fair vote can prevail.
Holding a mirror
But even before the two groups reach an agreement on a political agenda, which is of utmost importance, they must make a serious commitment to respect the human rights of the Palestinian people. For while Israeli occupation represents the most flagrant violation of basic human rights, Hamas - through the deposed government in Gaza - and Fatah - through the PA - have also inflicted their share of abuses on Palestinians.
Hardly a month passes without Palestinian and international human rights organisations complaining of abuses being committed by one or both sides of the feud. Hamas can justifiably accuse the PA of suppressing its members in the West Bank to appease Israeli security demands, while Fatah can rightly accuse Hamas of repressing its members in Gaza. But neither security concerns, nor claims to represent the Palestinian resistance can justify human rights violations.
Hamas, just like the PA, has arrested people for engaging in resistance against Israel, although it argues that its case is different because it has no security agreements with Israel. But suppression is suppression regardless of who carries it out and it is clear that Hamas is trying to send a message to Israel that it, not Fatah, controls security.
All but a few Palestinian writers and bloggers have failed to hold both parties accountable for these abuses, focusing instead on exposing one while ignoring the other. But an activist or writer should be able to fully support Hamas or Fatah, depending on their own political standing, while remaining committed to human rights and holding a mirror to their own party.
Both parties are participating in a process of self-destruction as long as they continue to ignore the human rights of the people they are competing to represent.
Deep scars
Palestinian human rights organisations are now forced to keep a long record of complaints by Palestinians against Israel, Hamas in Gaza and the Fatah-dominated security forces in the West Bank.
Both have been guilty - to different extents on different occasions - of preventing or disrupting protest rallies or meetings, either concocting a justification or simply offering no reason at all.
Most worryingly, both have resorted to torture - leaving lasting scars on the bodies and the consciousness of the Palestinian people.
This ongoing power struggle - for this is largely what it is - over an authority that has no authority, has increased the violations, with each afraid of the challenge the other poses.
The sanest voices in all of this have been those of the Hamas and Fatah detainees in Israeli prisons who have been at the forefront of calls for unity and the formulation of unity platform proposals.
Palestinians have been urging the world to look into Israeli crimes and human rights abuses. They are victims of a colonial apartheid system, which is why participating in the abuse of their own people is not only unacceptable but a crime that must stop.
If the Hamas/Fatah talks are to have any real meaning they must begin with a vow to respect and cherish Palestinian human rights.
Lamis Andoni is an analyst and commentator on Middle Eastern and Palestinian affairs.
The views expressed in this article are the author's own and do not necessarily reflect Al Jazeera's editorial policy.
Source:
Al Jazeera
---
Mexico's Gaza
Validated Independent News ---In Mexico's state of Oaxaca there has been a ongoing blockade since January 2010.  In the mountains of the region of San Juan Copala, the Triqui people are starving and dying off slowly due to a blockade that has remained in place since January of 2010 by the military group UBISORT (Union de bienestar de la region Triqui).  The people of San Juan Copala have no access to basic necessities such as water or medical attention.  UBISORT is said to be government funded by the ruling party in México, el PRI, and barricaded the city of San Juan Copala after the Triqui had peacefully declared their own autonomy. The people nearly ran the PRI governor Ulises Ruiz Ortiz, out of office.  Several humanitarian aid caravans have tried to make their way to San Juan Copala with no support or guarantee of their safety from the Méxican government.

Twelve people were kidnapped and disappeared in San Juan Copala on May 16, following the ambush of a caravan on April 27, 2010 in which two human rights activists were murdered by Unión de Bienestar de la Región Triqui (Ubisort) paramilitaries. The twelve disappeared are women and children. The kidnapping appeared to be a reprisal for the call to send a second, international and larger caravan to San Juan Copala, scheduled for June 8. At the close of Sunday May 16, late information was received that all the women and children had been freed. Nevertheless the denunciation of their disappearance was published to illustrate the contempt the state government and the State Commission for Human Rights hold for the Triquis.

Title: Oaxaca: The Ongoing Extermination of San Juan Copala's Autonomous Triquis
Publication:  Upside Down World,  17 May 2010
Author: Nancy Davies
URL: http://upsidedownworld.org/main/mexico-archives-79/2494-oaxaca-the-on-goingextermination-of-san-juan-copalas-autonomous-triquis
Title:  Oaxaca: Paramilitaries Ambush Inernational Aid Caravan: Two Dead
IndyBay.org, 4/28/10
Author: Kristin Bricker
URL: www.indybay.org/newsitems/2010/04/28/18645993.php
Faculty Evaluator: _Suzel Bozada Diaz, Sonoma  State University
Student Reporter: Angelina Bravo, Sonoma State University
---
BP: 100 Years of Moral Failure
As oil continues to leak into the Gulf, Iranians might remember the company's dark history in their country.

Saeed Rahnema
Professor, political science, York University; media commentator on the Middle East.


If I were superstitious, I would say that the catastrophic situation BP currently finds itself in vis-a-vis the disaster in the Gulf of Mexico is Mossadeq's curse. This is, after all, not the first time the oil company has made a mess of things in another country.
British Petroleum, the third largest "supermajor" has its origins in Iran. Over 100 years ago, a colonial concession by an inept and corrupt Iranian despot gave full control of Iran's oil exploration and production to the British for 60 years. Iran was to receive 16 per cent of the declared profit, but lacked any right to review the books. Soon after, the Anglo-Persian Oil Company (APOC) was established in 1909, later renamed the Anglo-Iranian Oil Company (AIOC) in 1935, and then British Petroleum in 1954.

The company plundered Iran's most valuable resource and viciously exploited Iranian workers who laboured under inhuman conditions and lived in abject poverty. With access to the massive and cheap Iranian oil reserves, the British government substituted coal for oil in the Royal Navy, and in 1914 bought up 51 per cent of the APOC shares. The company then signed a contract, guaranteeing a steady supply of Iranian oil to the British Navy for 30 years at fixed prices.
Apart from supplying almost free oil to the British, for decades Iranian oil revenues provided hundreds of millions of pounds in dividend and taxes to the British government. To collect the meagre share of profit it received, the Iranian government also had to purchase all the products that were used in the vast company from British manufacturers and producers, paying high prices and taxes. The company ruled with utmost arrogance, humiliating Iranians and interfering in all aspects of political life. In 1933, Reza Shah tried to make some changes to the original concession, and although some very minor adjustments were made on paper, almost nothing changed in practice.
Anti-British sentiment and calls for changes in the oil concession led some Iranian MPs in 1950 to call for a 50/50 share of profits, similar to what the U.S. had given Saudi Arabia. The company unequivocally rejected the idea and nationalist sentiments eventually brought the democratically elected government of Dr. Mohammad Mossadeq to power in 1951. Mossadeq nationalized the oil industry and an Iranian company, the National Iranian Oil Company, was put in charge.
In response, the British imposed a brutal embargo on Iran and the AIOC used every trick in the books to topple Mossadeq. Despite the lack of oil revenues because of the embargo, the Mossadeq government survived by issuing government bonds that even poor families managed to buy to support his government. After failing to oust Mossadeq, the AIOC and the British government asked newly elected President Eisenhower for help. The Americans agreed on the condition that they would have a major stake in the shares of Iranian oil, and in 1953 a CIA/MI6 supported coup toppled Mossadeq.
The victors created a consortium and "democratically" divided the Iranian oil among themselves: 40 per cent went to the AIOC, which would soon become British Petroleum, 40 per cent to the American oil giants, 14 per cent to Royal Dutch Shell, and the remaining 6 per cent to the French CFP (compagnie francaise des Petroles), now known as Total. The conditions of the contract were so harsh that even the Shah, who had regained his power after the coup, cried fowl.
BP and the other oil companies benefited from a new round of dictatorship in Iran, while generations of Iranian intellectuals who demanded independence, social justice, and democracy for their country rotted in prisons, or were executed or exiled. Concerned solely with the Iranian nationalists and the political left, BP, the British and American governments, and the Shah himself ignored the threat posed by the mullahs who eventually stole the secular revolution of 1979 and established the present Islamic fundamentalist regime in the country.
BP has created lots of messes of different types and magnitudes around the world. This time it had the bad luck of doing it in the backyard of a more powerful contender, and had to apologize and pay for it. BP never apologized to the Iranian people for the bigger crime of killing their chance of living under a democratically elected secular government in the early 1950s.
Many Iranians sympathize with the American people living in the southern states who are bearing the brunt of BP's avariciousness, but surely they have no tears to shed for this company.
---
http://www.chron.com/disp/story.mpl/metropolitan/7077166.html
Deported man may be Houston-born citizen
Border Patrol doubted his papers because he speaks very little English

By SUSAN CARROLL
HOUSTON CHRONICLE
June 23, 2010, 9:33PM
Immigration officials are reviewing whether a 19-year-old man deported last week from South Texas is actually a U.S. citizen born in Houston.
Luis Alberto Delgado said he and his older brother were stopped last Thursday by a Jim Wells County Sheriff captain, who called the U.S. Border Patrol.
Despite carrying a birth certificate showing he was born at Houston's Ben Taub Hospital, a state of Texas ID card and a Social Security card, Delgado said he was taken into Border Patrol custody, questioned for eight hours and pressured into signing paperwork that cleared the way for his removal to Mexico.
Delgado, who returned to Houston three years ago after spending much of his childhood in Mexico, said immigration officials were suspicious because he spoke very little English. He said they kept saying, "No, these papers aren't yours."
"What they did to me was discrimination," Delgado said in a telephone interview from Reynosa. "I don't understand why they did this."
"I am an American citizen," he said.
A U.S. Border Patrol spokesman said that officials do not comment on individual cases. A spokesman for the Texas Department of State Health Services, Chris Van Deusen, confirmed that the state has a birth certificate on file matching the information on one provided to authorities by Delgado. The Houston Chronicle reviewed a certified copy of the birth certificate.
U.S. immigration officials have faced scrutiny in recent years over allegations that they have deported U.S. citizens, including a high-profile case of a mentally disabled Los Angeles man who was lost for months in Mexico in 2007. Rep. Zoe Lofgren, D-Calif., said some cases in the past have been "appalling," but she was encouraged that Immigration and Customs Enforcement Assistant Secretary John Morton has taken steps to help revise guidelines to prevent such situations.
Isaias Torres, a Houston immigration attorney who took Delgado's case pro bono, said he contacted immigration officials Monday and said they initially were responsive to concerns that Delgado is a citizen but have not taken steps to return him to the U.S.
"I hope they will move on this quickly," he said. "We want him back here."
Stopped by a sheriff
Delgado and his brother, Eduardo Luis Pompa, dropped their niece off in Falfurrias last Thursday afternoon and were about 5 miles outside of Alice when they were stopped by a county sheriff.
Capt. Joe R. Martinez said he pulled Pompa over because the passenger, Delgado, was not wearing a seat belt. Martinez said he asked Pompa for a driver's license, but he did not have one. He also did not speak English, Martinez said.
Martinez said he asked the Border Patrol for help to identify the brothers.
Martinez said he booked Pompa into the county jail for driving without a license, and the Border Patrol took Delgado into immigration custody. Martinez said Pompa was released from jail after posting bail after jailers were told by federal officials that he is a U.S. citizen.
In the meantime, Delgado was at a South Texas Border Patrol station being questioned by immigration agents about his papers.
He said he was detained from 4 p.m. to midnight and pressured to sign paperwork that resulted in his being sent to Matamoros.
"The official that was holding me told me I had to sign them … or I would have to stay there," Delgado said.
"I thought if I signed them, they'd let me go free, and I could return to Houston," he said.
Stranded in Reynosa
Delgado said he never was expressly told by the agent that he would be released from custody in the U.S. if he signed the papers, but he believed that to be true.
Torres said Delgado's case may have been complicated for the Border Patrol because Delgado's family used a fake Mexican birth certificate to enroll him in school in Mexico.
He said school officials in Mexico historically give parents of U.S. children a hard time enrolling them in school without a Mexican birth certificate and look the other way if it's fraudulent.
Still, Torres questioned why Delgado was allowed to pass through the port of entry in Laredo three years ago without incident and why immigration officials didn't take more time to verify all of his documents. He said Delgado simply didn't know any better than to sign the immigration paperwork last week, Torres said.
"He's just a teenager," Torres said.
When Delgado tried to come back to the U.S. through the port of entry, he said he was told he could face up to 20 years in prison for entering the country after being deported.
Now, Delgado said, he is stranded in Reynosa, trying to understand how he ended up barred from the U.S.
susan.carroll@chron.com
The Story is Getting Out Despite Massive Israeli Propaganda Strategy
by Mazin Qumsiyeh

Date: Wed, 2 Jun 2010 13:46:17 +0300

The Israeli lies combined with media blackout on anything but their own version were apparently prepared long in advance of their planned massacre.
Claiming they found weapons but all they could show is kitchen knives and construction tools (wrenches, water pipes etc). All cargo was listed on the
ships' manifesto that the Israeli 'intelligence' agencies could easily acquire and were freely available and meticulously documented by the
organizers. The Israeli spin machine also claimed they were first trying to use non-lethal weapons including, and this is no joke, paint ball guns (funny that we did not see evidence of passengers with pained shirts but only blood soaked shirts). The respected media watch group FAIR detailed how some Western media (mis)reported of the attack on the humanitarian aid ships 'Reporting Israeli Assault Through Israel's Eyes: Attack on humanitarian flotilla prompts little media skepticism' <http://www.fair.org/index.php?page=408>1>
<http://salsa.democracyinaction.org/dia/track.jsp?v=2&c=9aOiPYmh9bLYAY3PtzkvXASxCjMt3dJm>
Reporters Without Borders urges the Israeli authorities to release a list of the journalists who were arrested during yesterday's raid on the humanitarian flotilla and to say where they are being held. There were at least 15 foreign journalists travelling with the flotilla who still cannot be reached directly. These are the names of the journalists known to have
been aboard the flotilla: <http://en.rsf.org/israel-israeli-military-prevents-media-31-05-2010,37630.html>
Some Western Media did a balanced job. Here is Democracy Now with excellent coverage <http://www.democracynow.org/2010/6/1/global_condemnation_of_israeli_armed_attack>
And while some western media dutifully reported Israeli government words of being sorry for the deaths and their verbal attack on the ships' passengers (calling them terrorists or terrorist sympathizers), no media reported on Israeli fascists celebrating the massacre in front of the Turkish embassy in Tel Aviv <http://www.liveleak.com/view?i=6a3_1275348204>
And also a video at Ben Gurion University and other universities. <http://www.youtube.com/watch?v=dB9GYd3jq_E> (According to the person who sent this 'It is important to mention that in principle all political activity on this campus is forbidden, and that leftist activists demonstrating outside of the campus during the war on Gaza
last year were arrested. This demonstration was held with collaboration of the University authorities and contrary to these same authorities regulations.")
Most abducted passengers will be released and deported but four have been brought before 'judges' and will be tried by the apartheid state: Lubna Masarwa (Free Gaza Movement board director), Sheikh Raed Salah (leader of the northern branch of the Islamic Movement in Israel/1948 Palestine), Mohammed Zeidan (Director of International Advocacy Program for the Arab Association for Human Rights), and Hamed abu Dabis (human rights advocate from Lebanon). It is to try to scare others in the future. But the Rachel Corrie ship is already on its way to Gaza from Ireland in defiance of the Israeli terror tactics and plans for new fleets are already being implemented. Unfortunately, the US administration took the decision yet again to shield Israel from International law and make a mockery of the UN by refusing to demand a lifting of the siege (contrary to position of all other countries). So much for the change that those who voted for Obama had expected.
Caoimhe Butterly recorded a message before she was kidnapped. She is still unaccounted for <http://www.qumsiyeh.org/ofcowardicedignityandsolidarity/>
Survivors of the massacre who are released tell their stories <http://www.guardian.co.uk/world/2010/jun/02/gaza-flotilla-raid-gunfire-ship-blood>
Sample Videos from demonstrations little reported in supine western media: Bethlehem< http://www.youtube.com/watch?v=IOnsBKZknrc> New York <http://www.youtube.com/watch?v=6BMxw1LnT50> San Francisco <http://www.youtube.com/watch?v=c-ijKBugff8>
Gaza aid flotilla: Israeli sabotage suspectedIsrael's military may have sabotaged two boats carrying Free Gaza activists after both malfunctioned at the same time in the same way prior to the raid <http://www.guardian.co.uk/world/2010/jun/01/israel-gaza-flotilla-sabotage-suspected>
The Elders group of past and present world leaders, including former South African president Nelson Mandela and Archbishop Desmond Tutu, on Monday condemned as "completely inexcusable" the deadly Israeli attack on a flotilla carrying aid for Gaza. <http://beta.thehindu.com/news/international/article442925.ece>

Meanwhile the colonization activities in the occupied West Bank continue fast and furious. Bulldozers are tearing up the land all around us. Our friends at the Tent of Nations had demolition orders served for the few structures and renovated caves they maintain on the farm that also acts as a peace center<http://www.tentofnations.org/> ). Our friends in Wad Rahhal are threatened with total eviction (if you are in Palestine, join us for a demonstration this Friday at 12:30 PM). The stories are endless in the land of apartheid. But resistance from brave souls continue (and our hearts and minds are with our friend Emily, a US visual art student who was targeted by the Israeli fascist forces and lost her left eye).
ACTIONS

Petition: call for independent investigation, accountability, and lifting the siege on Gaza <http://www.avaaz.org/en/gaza_flotilla/98.php?CLICKTF>
Translate you anger into action. Other ways to help:<http://endtheoccupation.org/article.php?list=type>
Mazin Qumsiyeh, PhD A Bedouin in Cyberspace, a villager at home <http://www.qumsiyeh.org> http://www.qumsiyeh.org>
Professor, Bethlehem and Birzeit Universities Chairman of the Board, Palestinian Center for Rapprochement Between People, <http://www.pcr.ps>
An HTML attachment was scrubbed... URL: <http://lists.qumsiyeh.org/pipermail/humanrights/attachments/20100602/df9d178f/attachment.htm>
_______________________________________________
HumanRights newsletter <http://lists.qumsiyeh.org/mailman/listinfo/humanrights>
---

Indigenous Peoples Support the Bolivia Cochabamba Peoples' Agreement of the recent People's Global Summit on Climate Change and the Rights of Mother Earth Rejection of Carbon Market Regimes
My name is Tom B.K. Goldtooth, Executive Director of the Indigenous Environmental Network. Our Indigenous network represents indigenous communities throughout the world experiencing the affects of climate change. The Indigenous Environmental Network is based in Minnesota, USA.
I am here at United Nations headquarters as part of an international delegation of civil society and social movements invited by President Evo Morales Ayma of the Plurinational State of Bolivia to lift up the importance of the Peoples' Agreement and the Universal Declaration of the Rights of Mother Earth, that are outcomes of the People's Global Summit on Climate Change and the Rights of Mother Earth.
Indigenous peoples from throughout the Americas and throughout the world participated in the Global Summit. Indigenous peoples stood together with the social movement of the world acknowledging that Mother Earth is the source of all life. World leaders and parties to the UN climate negotiations must reevaluate what their relationship is the sacredness of Mother Earth. The draft Universal Declaration of the Rights of Mother Earth developed in Cochabamba is an international framework to ensure mechanisms for the recognition of human rights, the rights of those that cannot speak for themselves and of our Mother Earth.
As representatives of social movements and civil society of the world – we are asking for meaningful and effective participation of civil society and social movements in Cancun and all UN climate change negotiations. The Copenhagen UN climate meeting did not allow this to happen. We are a movement of millions of people throughout the world demanding transparency, inclusion and to have a voice in UN climate negotiations that will create climate policy that directly affects the future of our communities and the world.
One of the key points of the Cochabamba Peoples' Agreement was the rejection of carbon market mechanisms within climate agreements and negotiations such as the controversial REDD initiative (Reducing Emissions from Deforestation and Degradation) and REDD+ that want to use forests as a commodity to be traded in a carbon offset regime, as well as Clean Development Mechanism projects.
Indigenous people the world over are suffering from human rights abuses from carbon trading and carbon offsets. Indigenous peoples' cosmovision and our worldview are concerned of a world that privatizes the air, water and commodifies the sacredness of Mother Earth. We must de-colonize the atmosphere.
The Copenhagen Accord was a high-stakes deal-maker and was really a Copenhagen Steal that did not recognize, nor had any language ensuring the rights of Indigenous Peoples. This will lead to further human rights violations, climate destruction, lost of land and disruption of the livelihood and well-being of indigenous communities from the arctic to the global south.
As Indigenous Peoples, we are the guardians of Mother Earth, and must make principled stands for the global well-being of all people and all life. The adoption of the Cochabamba Peoples' Agreement and the Universal Declaration on the Rights of Mother Earth is extremely necessary, if we are to survive this climate crisis that will be getting worst in decades to come.